3rd Edition 2005
ISBN 0 9528050 2 2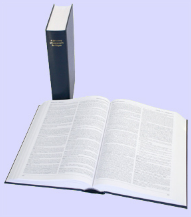 Awarded the 2006 C. B. Oldman Prize by the International Association of Music Libraries U.K & Ireland for "an outstanding work of music bibliography, music reference or music librarianship by an author resident in the United Kingdom or Republic of Ireland"
The 1000 pages include 17112* composers from 106 countries with full worklists of music for solo and organ with instruments (or orchestra), 872 women composers, now with full dates & places of birth / death, revised biographies, listing of unpublished works, chronological list of Parisian titulaires. 1400+ publishers of organ music.
The history & content of UK organ recitals 1880-1930, part of an unpublished thesis.
* My database currently holds information on over 23,500 composers.

There will be no printed 4th edition but a digital app will be available soon: expected Summer 2023.
I would greatly value extra information and any corrections from readers of my book.
Please feel free to contact me by email jh@organcomposers.com.